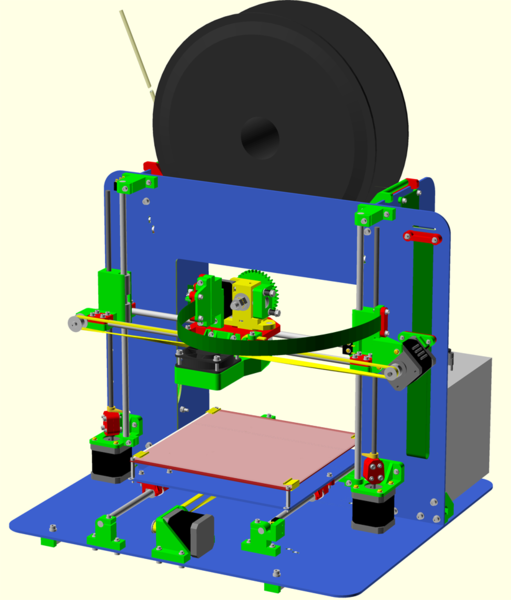 Why a Mendel90? Why any 3D printer? In all honesty, I want a D-Bot (or similar derivative) – Core-XY head with the bed only moving on the Z axis. This is different to the majority of 3D printer designs today, where the head moves on the X axis, which is mounted on a gantry that moves in Z (so called "Cartesian" designs). The bed then moves in the Y axis. This means that you are generally accelerating the two heaviest parts (the head and the bed) in the most common directions of travel (X and Y). You can reduce the weight of the head to some degree, by remote-mounting the extruder (a "Bowden" arrangement), but you can't do anything about the Bed. Z axis movements are much less frequent, so that motion is important, but not the governing factor. Being able to swap the Y axis movement on the bed for the Z axis means that only one weight needs to be moved rapidly… I digress.
The main point here – "Cartesian" movement printers have problems, and they relate to weight and rigidity. My FoldaRap eliminates some of that by using aluminium extrusion and having a robust mounting system for the entire frame. Many typical 3D printers today (especially at todays bottom end of the market) sacrifice some of that rigidity as a cost saving exercise, but leads to a more challenging scenario for budding 3D printers. The original Prusa i3 design had some flaws (that they have addressed in todays product – they doo look rather nice) that lead to problems – you can see those same issues repeated in the early Creality Ender series of 3D printers – very much clones of the Prusa/Mendel designs and all their flaws.
The Mendel90 does solve a lot of those problems – sheet construction that keeps the axis' at 90 degree to each other (hence the name: Mendel90), does make it much more rigid than some of the other machines out there. It's also a much larger ("standard") print volume at 200x200x200mm – something that constrains my printing efforts on FoldaRap. It's not without it's disadvantages – for a start, the sheets tend to resonate a bit and act as amplifiers for noise. There's no margin for error either – making a mistake with hole position is not always an issue, but could be a bit difficult to correct.
Oh, but wait, do I hear you asking why I didn't just buy "XXXXXX" printer? Well, I quite like building them – they present challenges, keep me engaged, and it's not as if I don't already have a 3D printer I can use.
Off the shelf (if there is such a thing) there are designs for the Mendel90 using Acrylic sheet, MDF and DiBond (an Aluminium clad PolyEthylene sheet with many uses). My friend that printed the parts for FoldaRap did it on his Mendel90 (and I admit, this was part of what swayed my decision), and he'd used a local supplier for laser cut aluminium panels in 3mm – this happened to match the DiBond parts just nicely, so I would be able to use those standard parts.
I reached out to him and he told me that he had a kit of parts that someone else had asked for over a year previously, but never paid for or collected. We agreed a price and I went to collect it…